It's that time of year when almost everyone is handing lights and tinsel and putting up their trees. Many enjoy driving around the neighborhood to take a look at their neighbor's decorations. A key staple to outside Christmas decor is putting lights up on your home. There are many different types of outdoor Christmas lights to choose from. From sizes to colors, and lengths learn more about how to hang Christmas lights this holiday season.
Different Types of Light
There are many different types of lights to choose from when decorating your home. When you go to buy lights make sure the lights you buy are for outdoor use.
Make Sure You Have Everything You Need
You will need:
Ladder

Tape measure

Outdoor lights (Measure first)

Plastic light clips

Have some zip ties just in case

Outdoor Extension Cord.
Preparing to Hang Lights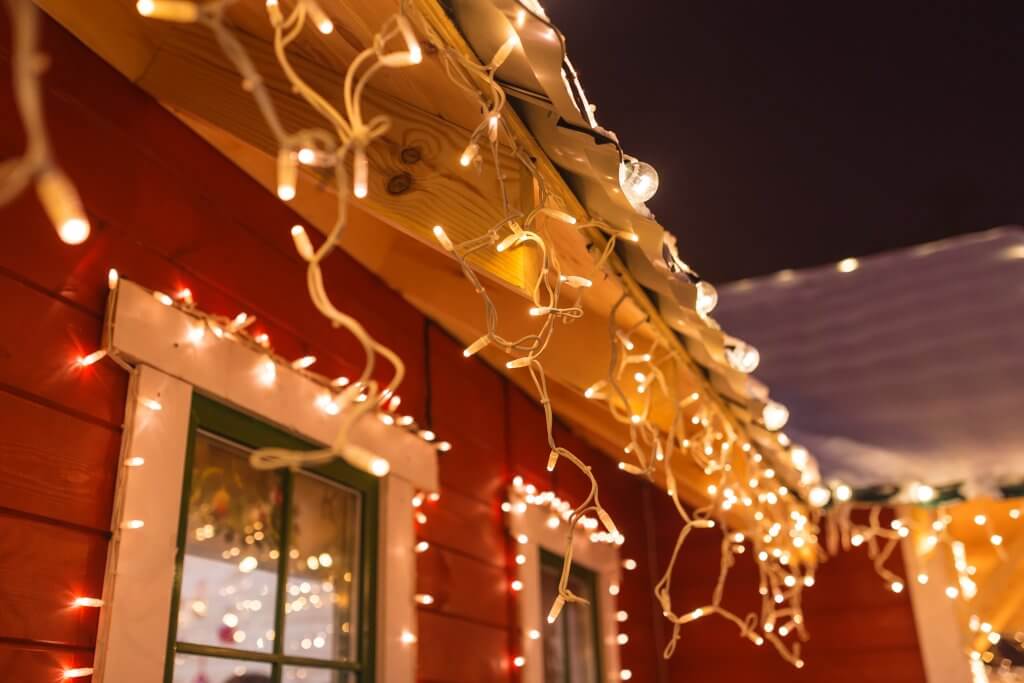 Between figuring out what types of lights you want to use, you also want to look at the structure of your home and figure out where you want lights to go. If this is your first year hanging lights we recommend you start small and grow year after year. This is a great way to figure out what you like and don't dislike before spending a fortune on Christmas lights. Look at the outside of your house as a whole, not just sections. Walk to the end of the driveway and look at it. Looking at your home from the road will give you the perspective of your neighbors or people driving by, and allow you to figure out where lights will look the best.
Measure Where You Plan to Put Lights
Once you figure out where you want to hang lights and what type or types of lights you need, you need to measure to see how many strands you will need. Tip: if you have a flat roof measure along that section of your home on the ground and save a trip up the ladder.
Once You Have Bought Your Lights
Now that you have figured out what lights you want, where to hang them, and have purchased your lights it is time to make sure they work before you hang them. You want to make sure each strand of lights is working and that there are no broken or missing bulbs. Next, attach the clips to the strings about a foot apart. It's easier to do this before climbing up the ladder so you don't have to worry about it once you're up there. Once you are ready to hang you have a few options for how you want to attach the clip. You can clip them onto your gutter, siding, railing, roofline, or anywhere else that helps your design in mind come to life. Be careful not to mess up any of your shingles. Use the zip ties on any sections that seem unstable. As you're adding in strands gather extra wire and zip tie to not mess up the spacing. Once everything is hung then turn the lights on and take a look.
Are you in need of immediate roofing repairs or a roof replacement? The team at Southline Roofing is here to help. Contact us today!