charleston Metal Roofs
The best way to protect your home is to install a metal roof, and the best way to get that done is to utilize our team of expert roofing professionals at Southline Roofing & Exteriors.
Contact Us Today
"*" indicates required fields
Why Should You Have A Metal Roof Installed?
Metal roofs are a popular choice throughout the South Carolina Lowcountry because of their ability to provide strong protection against the elements of nature. Hurricanes have a tendency to cause a large amount of damage to the Charleston area; because of the city's close proximity to the ocean, winds that strike the area can range from 70-130 miles per hour, and in extreme circumstances, potentially even more! With such destruction always a possibility, many homeowners will opt to equip their home with the best line of defense possible against Mother Nature.
Another, similar benefit to metal roofs is their naturally long lifespan. On average, metal roofs are about three or four times more durable and long-lasting than shingle roofs. Most shingle roofs can last about 20-25 years if maintained properly and frequently; metal roofs, on the other hand, can last for 70 years, and possibly even longer. Additionally, metal roofs require far less maintenance than shingle roofs, as all you really have to do to keep a metal roof in good shape is to look out for and treat scratches and corrosion.
If you have a shingle roof and would like to make the switch to a metal roof, but are uncertain about your ability to make the switch, don't worry- you can! In the overwhelming majority of cases, we will be able to convert your shingle roof to a metal roof with just a few simple modifications. Call our team of professional roofing experts at Southline Roofing & Exteriors today for a free estimate!
warranty information
At Southline Roofing & Exteriors, we proudly stand behind our work, and we back it up with a ten-year workmanship warranty on anything that we replace- not just your roof. This ranges from siding to gutters, and it's all at no cost to you, labor and materials included. This warranty is simply our way of telling you how much it means to us to be able to work with you, and our way of showing you how much we care about the well-being of your home.
Q: Does a metal roof cost more than a shingle roof?
A: A metal roof comes equipped with many advantages and benefits alongside longevity, which results in them typically averaging around three or four times more than a shingle roof.
Q: Is a metal roof more environmentally friendly than a shingle roof?
A: Yes, a metal roof has the best UV reflection, which in return can lower the cost of your heating and air. Its long life expectancy also means you can avoid a trip to the landfill, as all new metal panels are 100% recyclable.
Many companies like to talk about what they can do for their customers. At Southline Roofing & Exteriors, we'd much rather show you. Feel free to browse through our photo gallery, and take a look at some of the new roofs we've installed for our customers in Charleston!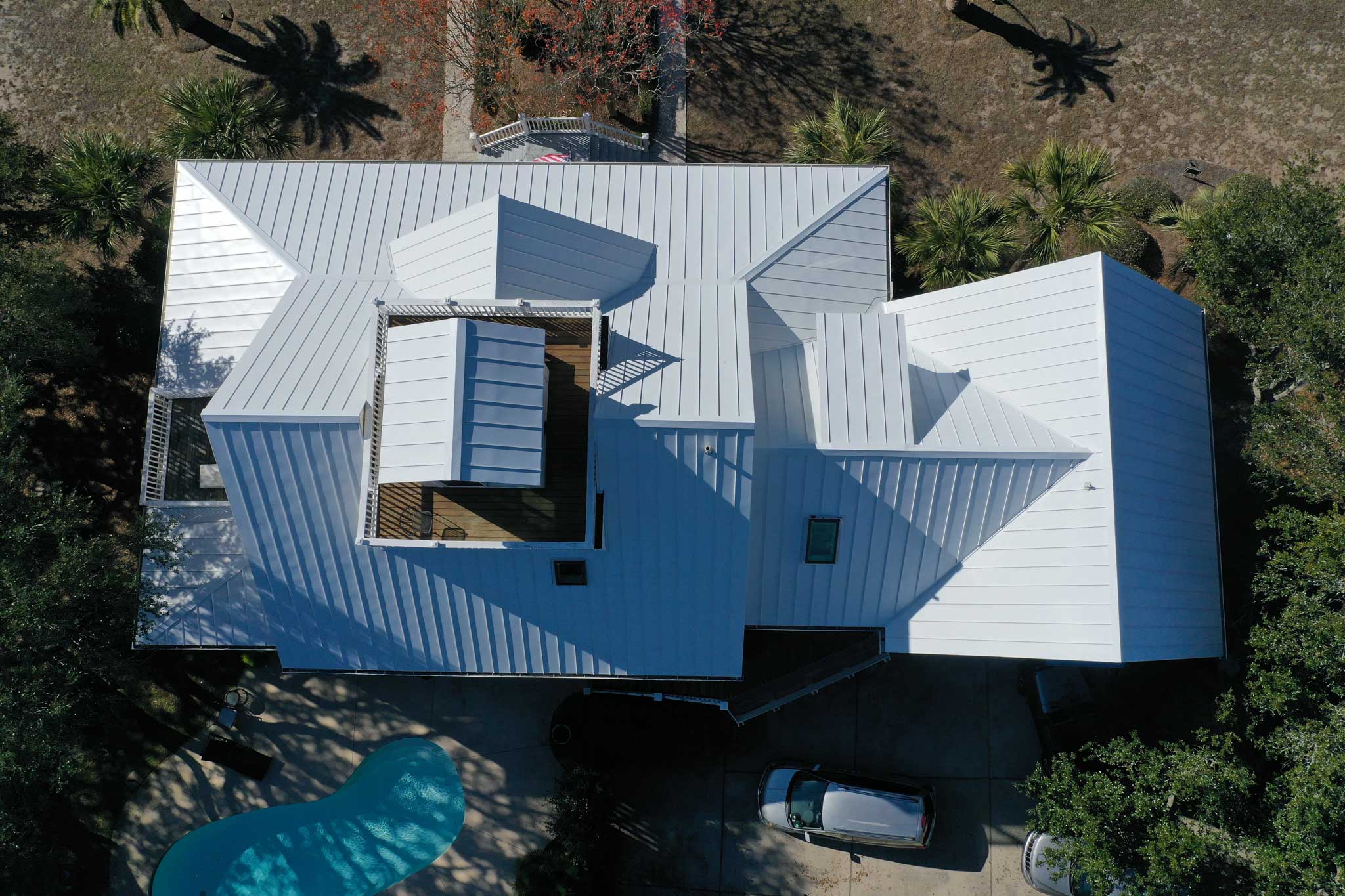 Contact Southline Roofing & Exteriors
If you're looking for the best team of professional roofers to provide your home with the best protection from the elements of nature, Southline Roofing & Exteriors would be more than happy to assist you with your next roofing or exterior project. Contact us today for a free estimate!