Architectural shingle roofs are quickly growing in popularity because of their ability to stand up to the forces of nature, and their resulting long lifespans. It's not unusual for an architectural shingle roof to last for twenty or even thirty years when installed correctly and maintained properly. Our team of professional roofing experts at Southline Roofing & Exteriors has been repairing and replacing architectural shingle roofs for almost twenty years for customers in Mount Pleasant, SC, and if you would like an architectural shingle roof for your home, we would be more than happy to add you to our long list of satisfied customers.
Contact Us Today
"*" indicates required fields
Architectural shingle roofs
 The Benefits Of An Architectural Shingle Roof
Because of the high quality material architectural shingle roofs are made of, they tend to last for at least fifteen years. Oftentimes, they can last twenty years, and potentially even thirty years- all while providing strong levels of protection against the elements of nature. Also known as laminated shingles or dimensional shingles, these shingles are composed of sturdy fiberglass mats and ceramic-coated mineral granules that are tucked inside of water-resistant asphalt. This combination of materials means that unpleasant weather patterns- such as heavy rain, hail, ice, and wind- do not do as much damage to architectural shingle roofs as plain asphalt shingles, giving your home an extra line of defense against Mother Nature.
Architectural shingle roofs require a special level of skill, attention to detail, and experience to be installed due to the high caliber of material they are comprised of. There's an extra level of care and expertise that must be demonstrated with the installation of an architectural shingle roof. That's where our team at Southline Roofing & Exterior comes into play.
Since 2007, Southline Roofing & Exteriors has prided itself on providing nothing short of the best roof installation services in Mount Pleasant, SC. We love nothing more than serving our fellow citizens of Mount Pleasant, and there's a strong source of pride that comes with installing an architectural shingle roof correctly, the first time, every time. That's why we stand behind all the work we do with a warranty.
If you are looking for a trusted and experienced team of professionals to install your architectural shingle roof, our team is here to serve. Reach out to us today to receive a free estimate!
Many companies like to talk about what they can do for their customers. At Southline Roofing & Exteriors, we'd much rather show you. Feel free to browse through our photo gallery, and take a look at some of the new roofs we've installed for our customers in Mount Pleasant!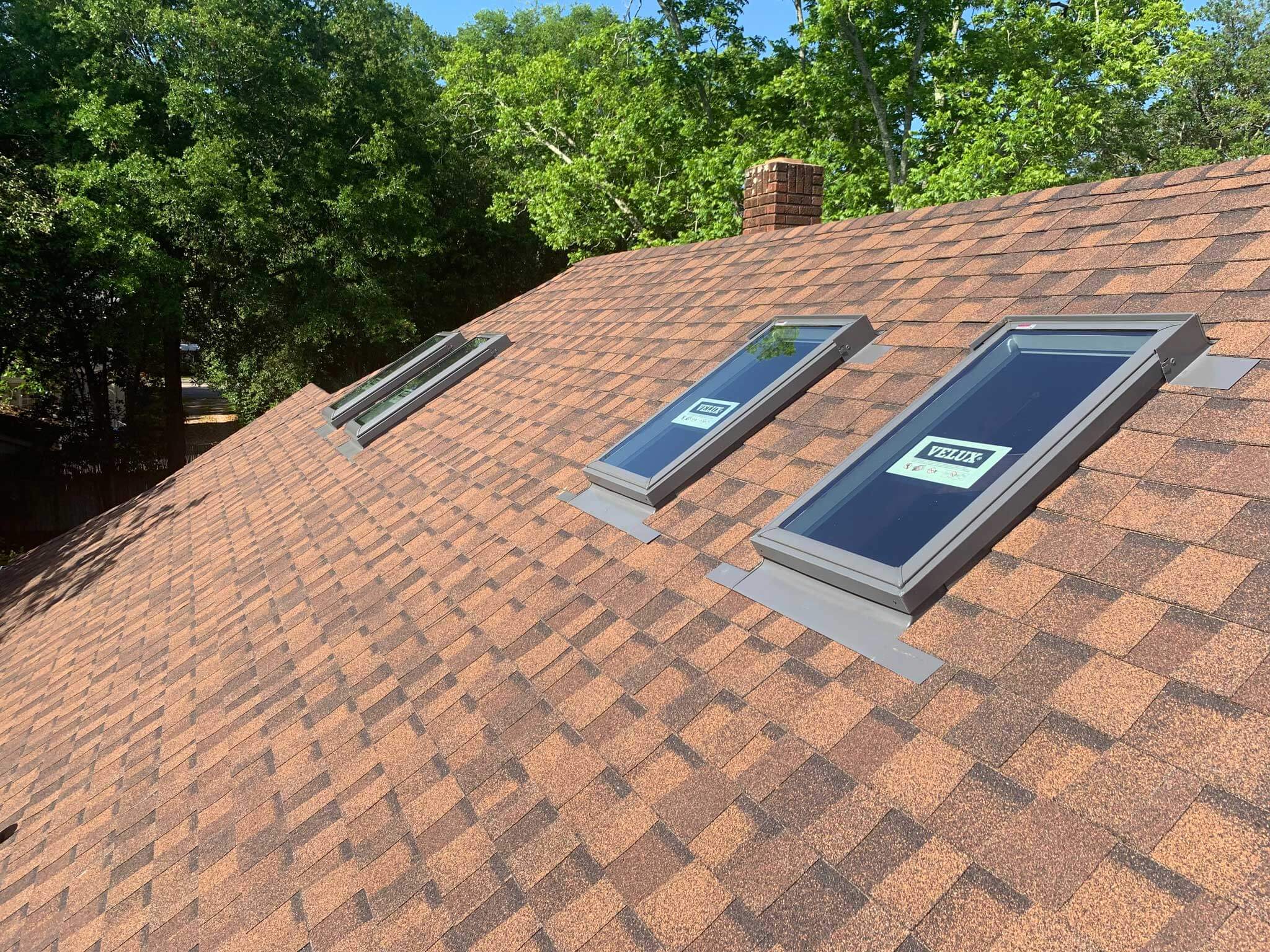 At Southline Roofing & Exteriors, we know that your roof is an integral part of your home's overall aesthetic appeal and how it performs. As experienced architectural shingle roofing professionals, we're dedicated to ensuring that your home's roof looks great and protects you from the elements.
Though they come with extra levels of durability, architectural shingle roofs will need to be replaced from time to time. Armed with a team of expertly trained technicians, our team has been providing residential and commercial architectural shingle roof repairs for nearly two decades. We are committed to delivering high-quality, affordable repairs every time—no matter what kind of repair you need to be done or how big or small the job may be.
We know that when it comes to your home, you want a roof that is going to last—and one that will protect you and your family from everything nature throws at it. That's where architectural shingle roofs come into play. Our team of experienced, licensed professionals use only the highest quality architectural shingles in our efforts to provide you with a durable new shingle roof. 


Brian Diehl
04:21 15 Feb 23
100% happy with the service and roof installed on our home! The team is very professional and extremely knowledgeable. I sleep better at night knowing i have a great roof. The entire neighborhood is impressed with the great looking transformation our shingle selection made for the house. Thank you all! And I will recommend/call again! #SALUTE

Angela Smith
15:41 29 Sep 22
We had a home inspection done as part of selling our home and needed some roof repairs done. Southline Roofing came very highly recommended. Kevin Cox with Southline came out to the house the next day to look at the repairs needed and actually did the repairs that day. He also did a full roof inspection to go along with the report that we needed for the buyers. Kevin was very professional, prompt and knowledgeable about the repairs we needed. I highly recommend Southline Roofing and especially Kevin for your roofing needs. They are the best!

James Tasse
14:42 24 Sep 22
Ignacio from Southline Roofing came out and did an estimate on replacing our roof shingles earlier this year. I think Southline was comparable to the other companies cost-wise, but Ignacio took some extra time to explain my options. He even mentioned that there had been some hail damage in the area in the past, and that I might be able to claim at least some of the cost of a new roof if it were to happen again.I waited a few months, but after we got no hail, I decided I would rather not let a hurricane reveal the weaknesses in my old roof. I was able to schedule the work with Yobana, who was very nice, within a few weeks, and they came out to do the install on time. The work took a little longer than expected, but I didn't mind because they did a good job with cleaning everything up.Would use them again for sure!
See All Reviews
Contact Southline Roofing & Exteriors
If you're looking for the best team of professional roofers to provide your home with the best protection from the elements of nature, Southline Roofing & Exteriors would be more than happy to assist you with your next roofing or exterior project. Contact us today for a free estimate!