We all know that the roof is one of the most important parts of your home's exterior. It serves several benefits, including keeping your home properly insulated, providing curb appeal, and protecting it from the elements of nature. With these crucial benefits, it is important to keep your roof in good shape. Contrary to popular belief- you do have to provide your roof with routine maintenance to make sure you are getting the absolute most out of the life of it. Otherwise, you open yourself up to potentially expensive consequences down the road.
Contact Us Today
"*" indicates required fields
Not all leaks, damaged or missing shingles, and dark spots on the roof mean you need a roof replacement. There is no doubt that roof repairs and maintenance are interlinked; regular maintenance will lessen the severity of the repairs. Doing small things like replacing damaged shingles and repairing leaks will extend the life and integrity of your roof.
If you notice problems, don't wait to get an inspection! The longer these problems occur, the pricier and more extreme they could get. Here at Southline Roofing & Exteriors, we will lead you down the right path for you and your home.
Roof Repairs Are Better Taken Care Of Sooner Than Later
The most important thing to keep in mind with roof repairs is that the quicker you address them, the better. What appears to be a harmless hairline crack in a lone shingle could be a sign of additional decay issues with other shingles, as they were all (likely) installed together, and what may look like a tiny bit of mold the size of a penny could signal an impending health issue in a matter of weeks or even days. No matter what the issue seems to be with your roof, if anything seems to be out of the ordinary- don't wait, give our team a call and get a free estimate.
Signs You Need A Roof Repair:
A good rule of thumb to remember with your roof is that the quicker you act, the quicker and less expensive the solution. An issue that you may see as small could turn into costing you thousands or even tens of thousands of dollars later on, so being vigilant is typically the best thing for you and your roof. 
Damaged or missing shingles
Heavy rains bring water stains
Shingles begin to grow moss
Specific areas of rotting spotted in the attic
Flashing is loose or coming apart
A buckled or sunken-appearing roof
Why Southline Roofing & Exteriors?
Why us? Above all other reasons, Southline Roofing & Exteriors operates with its customers' best interests in mind at all times.
Our team of roofing experts has lived in and provided our services for customers in Mount Pleasant since 2007. We hold our Mount Pleasant community in the highest of regards and see our fellow Mount Pleasant citizens not as our customers, but as our neighbors. With each job that we perform, we treat the work we do as though it's being done for our own home, because we believe that is what being a good neighbor is all about.
Regular maintenance, combined with quality roof repairs, extends the life of your roof while providing added safety and protection for your home and your family. Maintain your roof's functional condition, preserve curb appeal, save money, and enhance the value/resale potential of your home with expert repairs from Southline Roofing & Exteriors, LLC.
Q: Do all roofs leak?
A: The short answer is no- no roof system ever leaks unless an item was compromised. However, if neglected, most roofs will generally become compromised from a lack of maintenance, so homeowners are advised to be proactive with their roofs.
Q: How long does it take to repair a roof?
A: Every repair is different. The amount of time a roof repair takes depends on the scope of the work and the extent of the damages. 
Q: Will my shingles match if I complete a repair?
A: Due to sun exposure and fading over the years, the color of your shingles will become harder to match. Completing a repair on a roof that is older than 12 years will typically stand out significantly. 
Q: What is the average cost of a roof repair?
A: Depending on the severity and complexity of the repair, small repairs can range from $425-$650, and more severe issues can range from $2,000-$3,200. 
Q: Is there a warranty with my repair?
A: When you choose to work with Southline Roofing & Exteriors, you are giving yourself the ability to feel confident in the quality of our work- and feel confident in our ability to stand behind our work. All of our repairs come with a minimum 10-year labor and material warranty.
Many companies like to talk about what they can do for their customers. At Southline Roofing & Exteriors, we'd much rather show you. Feel free to browse through our photo gallery, and take a look at some of the new roofs we've installed for our customers in Mount Pleasant!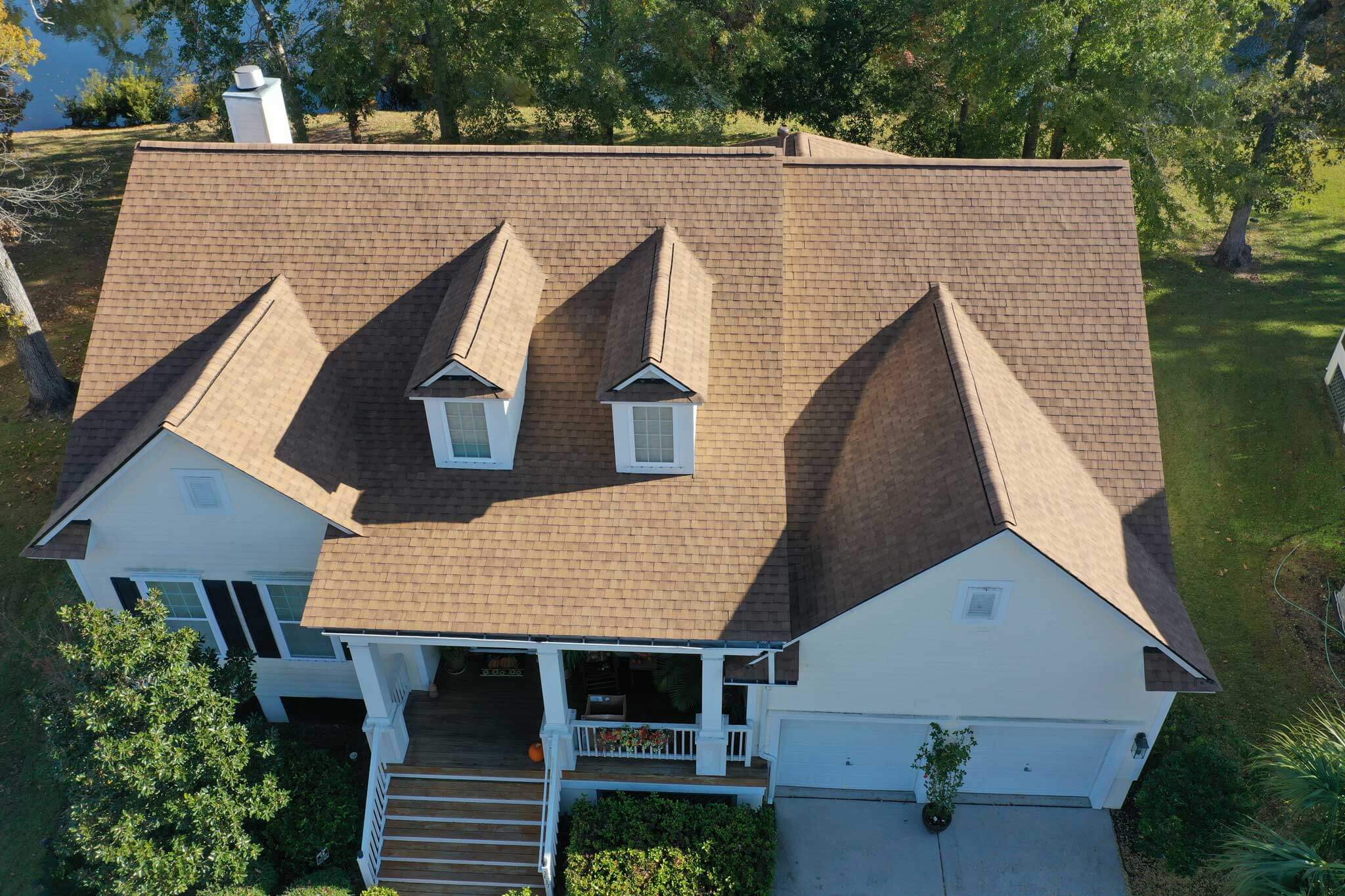 Brian Diehl
04:21 15 Feb 23
100% happy with the service and roof installed on our home! The team is very professional and extremely knowledgeable. I sleep better at night knowing i have a great roof. The entire neighborhood is impressed with the great looking transformation our shingle selection made for the house. Thank you all! And I will recommend/call again! #SALUTE

Angela Smith
15:41 29 Sep 22
We had a home inspection done as part of selling our home and needed some roof repairs done. Southline Roofing came very highly recommended. Kevin Cox with Southline came out to the house the next day to look at the repairs needed and actually did the repairs that day. He also did a full roof inspection to go along with the report that we needed for the buyers. Kevin was very professional, prompt and knowledgeable about the repairs we needed. I highly recommend Southline Roofing and especially Kevin for your roofing needs. They are the best!

James Tasse
14:42 24 Sep 22
Ignacio from Southline Roofing came out and did an estimate on replacing our roof shingles earlier this year. I think Southline was comparable to the other companies cost-wise, but Ignacio took some extra time to explain my options. He even mentioned that there had been some hail damage in the area in the past, and that I might be able to claim at least some of the cost of a new roof if it were to happen again.I waited a few months, but after we got no hail, I decided I would rather not let a hurricane reveal the weaknesses in my old roof. I was able to schedule the work with Yobana, who was very nice, within a few weeks, and they came out to do the install on time. The work took a little longer than expected, but I didn't mind because they did a good job with cleaning everything up.Would use them again for sure!
See All Reviews
Contact Southline Roofing & Exteriors
If you're looking for the best team of professional roofers to provide your home with the best protection from the elements of nature, Southline Roofing & Exteriors would be more than happy to assist you with your next roofing or exterior project. Contact us today for a free estimate!