One of the few certainties in life is that with the passage of time, your roof is going to need to be replaced. When that time comes, you will want nothing less than the best team of roofing experts around to get the job done. That's where Southline Roofing & Exteriors, and its reputation for excellence, come into play.
Contact Us Today
"*" indicates required fields
mount pleasant roof replacement
No matter what circumstances have led you to seek a new roof, Southline Roofing & Exteriors is here to help. Our staff of talented, dedicated, and fully licensed professional roofers has been serving the Mount Pleasant community for nearly twenty years, and when you choose to have your roof replaced by our team, you are placing your trust in a team of roofing experts that has replaced thousands of roofs through the years.
We understand the process of having your roof replaced can be a long, difficult, and arduous process. There are so many different moving pieces to navigate, and the whole procedure can be frustrating. But it doesn't have to be that way, and when Southline Roofing & Exteriors replaces your roof, it isn't.
Roof warranty information
At Southline Roofing & Exteriors, we believe that every project is unique. No matter what circumstances you're facing, our team will cater to you. We'll do multi-view roof walk inspections and documentation to get you the best view of your project.
From estimates to the actual work, we'll work with your schedule, and do it all with the highest degree of professionalism. We respect your home and leave it as pristine as when we arrived. Our work and our team are of the highest quality—and we stand behind them 100%.
We back up all our work with a ten-year workmanship warranty on anything that we replace including siding, gutters, or roof at no cost to you—labor and materials included.
CertainTeed Landmark architectural shingles: lifetime limited warranty
Warranties
– 15-year 130 MPH wind warranty with 6 nails
– 10-year SureStart protection that covers 100% for the first 10 years. After 10 years it depreciates in value.
– Lifetime limited 50-year shingle warranty
– We offer a 10-year in-house labor warranty.
– Non-Transferable warranty
Atlas:
 

Pinnacle Pristine High-Performance Architectural Shingle
Warranties:
– 15-year 130 MPH wind warranty with 4 nails
– 25-year Transferable Warranty
– 25-year non-prorated algae-resistant warranty
– 25-year non-prorated premium coverage
– Lifetime limited 50-year shingle warranty
– We offer a 10-year in-house labor warranty.
Atlas:
 

Storm Master Shake
Warranties:
– 15-year 150 MPH wind warranty with 4 nails
– 25-year Transferable Warranty
– 25-year non-prorated algae-resistant warranty
– 25-year non-prorated premium coverage
– 10-year impact resistant warranty
– Lifetime limited 50-year shingle warranty
– We offer a 10-year in-house labor warranty
When you choose to work with Southline Roofing & Exteriors, you can feel confident that all of our repairs come with a 10-year labor and material warranty.
A proven Standard of roofing Excellence
Your home is your most valuable physical asset, and your roof is one of the most important components of it. As such, we hold ourselves to the highest of standards- which is what you deserve. You work hard for your living and deserve to have a roof on your home that you don't have to worry about. When Southline Roofing & Exteriors replace your roof, you can rest assured that your home is protected from the elements for several years, if not even decades. Our team of roofing professionals makes sure to get the job done right, the first time, each time. That's the standard we have set over the nearly twenty years we've replaced roofs in the Mount Pleasant neighborhood, and that's our standard of excellence you can expect to meet when we replace your roof.
Many companies like to talk about what they can do for their customers. At Southline Roofing & Exteriors, we'd much rather show you. Feel free to browse through our photo gallery, and take a look at some of the new roofs we've installed for our customers in Mount Pleasant!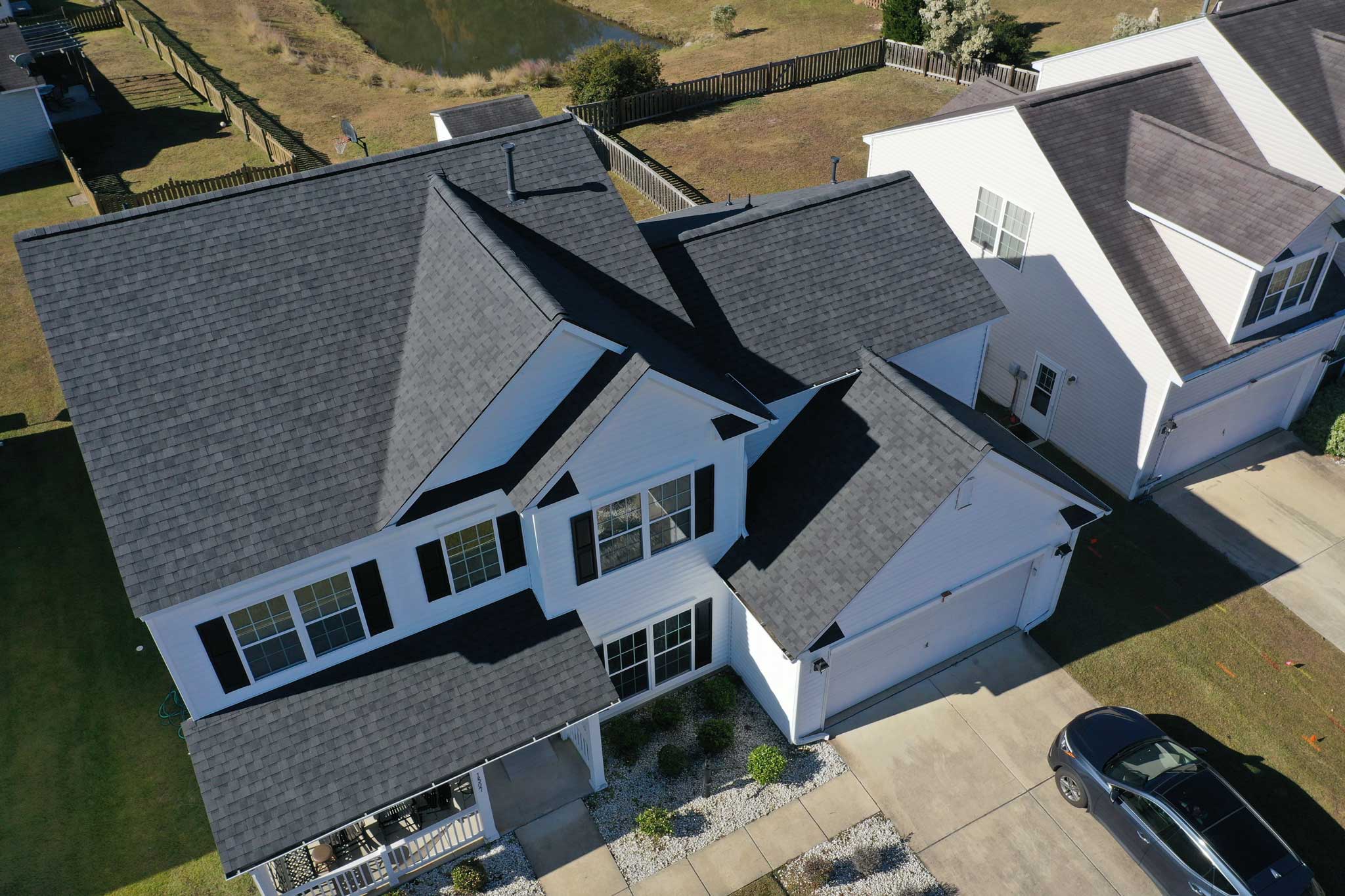 Shingle Roof Repair/Installation FAQ
Q: How much should I expect to pay for my shingle roof replacement?
A: There are multiple factors (including, but not limited to, steepness, complexity, and height) that come into play when estimating the cost of a new roof. A good rule of thumb is for every square foot on your roof, your cost will range between $3.75 – $4.75. Call us for a free precise estimate! 
Q: Could I finance my shingle roof replacement?
A:  Yes! You can finance 100% of your roofing project. Ask one of our field consultants during your inspection for more information about our partnership with Greensky.
Q: From start to finish, how long would the installation process take?
A: From start to finish, our crew is able to finish your installation process in either one or two days, depending on the steepness and complexity of your roof.
Q: Will it be cheaper if I provide the materials?
A: We purchase all of our materials from the manufacturer directly, which includes a contractor discount- which is reflected in your estimate. The manufacturer of the products we use only sells to certified contractors at wholesale pricing. Unfortunately, you are not able to purchase our line of products directly.
Q: How long will my shingle roof last?
A: Newer shingles being manufactured after 2018 are all realistically shooting for 20-25 year lifespans. Any shingles that were manufactured prior to that, are all shooting for 14-20 years. This all depends on the manufacturer and type of shingles that were used. Set up a free inspection with one of our field consultants to get a more in-depth life expectancy. 
Q: What is the best thing I can do to ensure my roof lasts as long as possible?
A: The best way to increase the longevity of your shingle roof system is to conduct regular maintenance such as cleaning debris out of the gutter and off of the roof, resealing any flashing, and avoiding setting up ladders that don't have proper support.
Q: How do I know if I need a new roof?
A: Sometimes the answer is obvious- missing shingles, holes in the roof, leaks in the ceiling. Other times, the answer is more subtle. 
If your roof is more than 16-20 years old, or if you have purchased a home and do not know when the roof was first constructed, we recommend that you have a roof inspection to determine the remaining useful life of your roof. This will help you to both better maintain the roof to maximize longevity, as well as begin to budget for a new roof if you anticipate needing one while you own the home.
Curling shingles, missing or damaged flashing, ice dams, and discolored ceilings and walls are also good indicators that it's time to replace your roof.
Q: Will I need to replace my gutters at the same time?
A: This will depend on the condition and placement of your gutters at the time of the replacement. If they are in good condition, your installers should be able to protect them throughout the duration of the project.


Brian Diehl
04:21 15 Feb 23
100% happy with the service and roof installed on our home! The team is very professional and extremely knowledgeable. I sleep better at night knowing i have a great roof. The entire neighborhood is impressed with the great looking transformation our shingle selection made for the house. Thank you all! And I will recommend/call again! #SALUTE

Angela Smith
15:41 29 Sep 22
We had a home inspection done as part of selling our home and needed some roof repairs done. Southline Roofing came very highly recommended. Kevin Cox with Southline came out to the house the next day to look at the repairs needed and actually did the repairs that day. He also did a full roof inspection to go along with the report that we needed for the buyers. Kevin was very professional, prompt and knowledgeable about the repairs we needed. I highly recommend Southline Roofing and especially Kevin for your roofing needs. They are the best!

James Tasse
14:42 24 Sep 22
Ignacio from Southline Roofing came out and did an estimate on replacing our roof shingles earlier this year. I think Southline was comparable to the other companies cost-wise, but Ignacio took some extra time to explain my options. He even mentioned that there had been some hail damage in the area in the past, and that I might be able to claim at least some of the cost of a new roof if it were to happen again.I waited a few months, but after we got no hail, I decided I would rather not let a hurricane reveal the weaknesses in my old roof. I was able to schedule the work with Yobana, who was very nice, within a few weeks, and they came out to do the install on time. The work took a little longer than expected, but I didn't mind because they did a good job with cleaning everything up.Would use them again for sure!
See All Reviews
Contact Southline Roofing & Exteriors
If you're looking for the best team of professional roofers to provide your home with the best protection from the elements of nature, Southline Roofing & Exteriors would be more than happy to assist you with your next roofing or exterior project. Contact us today for a free estimate!