mount pleasant siding
The siding of your home may not seem like a tremendously important component of your home, but the reality is that quality siding comes with a long list of benefits. Beyond merely proving protection for the interior of your home, quality siding can fend off the growth of mold, mildew, and other forms of bacteria. When installed properly, quality siding can also require very little maintenance, and can even raise the resale value of your home!
If you ever find yourself needing or wanting to replace your siding- whether that's due to a hurricane that caused a lot of damage or you simply want a new color siding- Southline Roofing & Exteriors is here to help.
Contact Us Today
"*" indicates required fields
Raise Your Curb Appeal With Top-Quality Siding!
Southline Roofing & Exteriors specializes in installing and repairing nothing less than the best quality siding for homes and offices throughout Mount Pleasant. We offer a wide range of options, including vinyl, fiber, and cement siding materials, and we are always more than happy to work with you to select the siding option that best fits what you're looking for.
Your home is your most vital asset, and it deserves to be treated as such. For a home to truly be well maintained, it must have durable and long-lasting materials holding it up, and when you choose to have your siding replaced or repaired by our team, you're ensuring yourself of exactly that. Our commitment to all homeowners we work with is to get the job done correctly, the first time, each time. We back up that commitment by offering a ten-year warranty for all our work. That's our way of showing you how seriously we take our commitment to excellent service.
warranty information
At Southline Roofing & Exteriors, we proudly stand behind our work, and we back it up with a ten-year workmanship warranty on anything that we replace- not just your roof. This ranges from siding to gutters, and it's all at no cost to you, labor and materials included. This warranty is simply our way of telling you how much it means to us to be able to work with you, and our way of showing you how much we care about the well-being of your home.
Rely On Southline For All Your Siding Needs
Southline Roofing & Exteriors has proudly been providing our excellent service for Mount Pleasant homeowners for nearly twenty years. Along the way, we have earned hundreds of five-star reviews from happy customers, and the reason for this is that we treat every home we work on as though it's our own. We view our customers not just as customers, but as our neighbors, and our mission in every job we work on is to show what being a good neighbor means.
If you find yourself looking for new siding, or needing to repair existing siding, call our team of siding professionals at Southline Roofing & exteriors today for a free estimate!
Companies usually like to talk about what they can do for their customers, but at Southline Roofing & Exteriors, we would rather show you. Take a look at our gallery and view the siding that we've installed for our customers in the town of Mount Pleasant.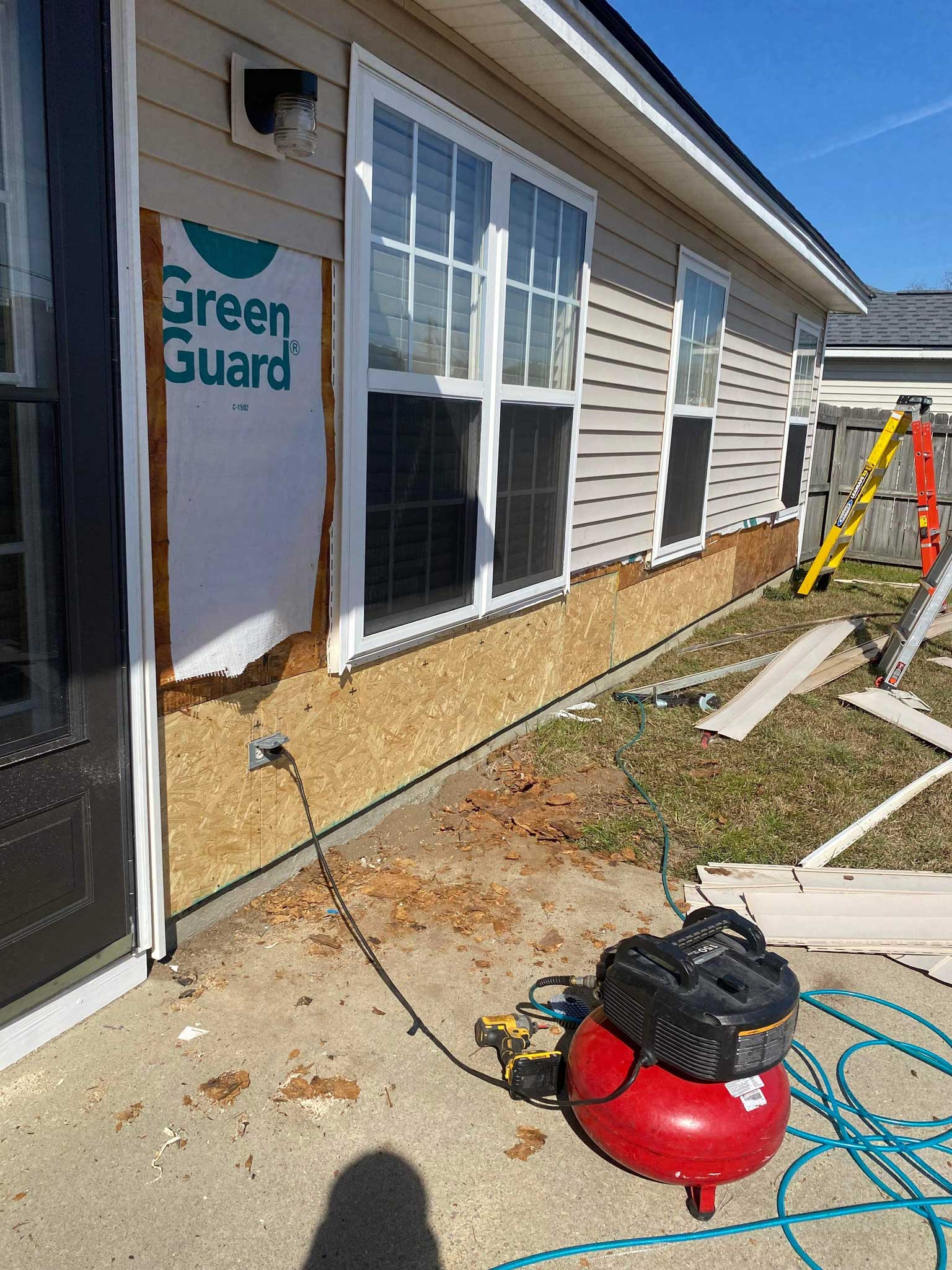 Contact Southline Roofing & Exteriors
If you're looking for the best team of professional roofers to provide your home with the best protection from the elements of nature, Southline Roofing & Exteriors would be more than happy to assist you with your next roofing or exterior project. Contact us today for a free estimate!